I am 30 years old and the proud mother of two sons – a 21 month old and 9 week old. My first son was delivered via c-section and my second was a successful vbac.
I am very fond of this website and enjoy reading the many courageous and often inspiring stories.
I was forced to deliver via emergency c-section with my first son due to fetal distress. This was heart breaking for me, as I had so badly wanted to experience a natural delivery. I did however quickly come to terms with my dissapointment when I got to hold my sweet little boy for the first time. It may not have been a picture perfect delivery, but he was here, and healthy.
I wasn't crazy about my new body after my first son, but learned to embrace it one day at a time. The section scar never bothered me. In fact, it was a reminder of the miracles of modern medicine and how the procedure saved my baby.
Fast forward to the present, and I am now 9 weeks post partum with my second beautiful son. I was so very fortunate to experience a successful vbac. I finally had a natural delivery and it was everything I had hoped it would be. My son did however arrive quickly and forcefully, and I sustained a second degree tear and a uterine prolapse. Needless to say, things are no longer the same down there.
My Dr stated that kegels will help a bit but I could consider surgical repair once we are through having children. I feel so disfigured, and it is truly affecting my ability to be intimate with my husband. He is wonderful, tender and supportive, but I have such a huge hang up about it, that I can't allow myself to enjoy being intimate. This is only compounded by the fact that the sensation is decreased and I don't like looking at my stretched out body.
I am trying so hard to overcome my hang ups. I have always considered myself to be a strong confident woman….but she seems to be hiding and I don't know where to find her.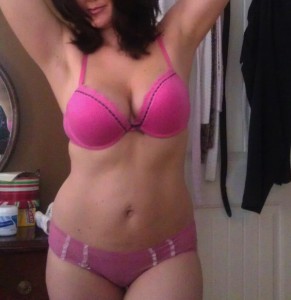 Updated here.