My name is Katherina and I am a mother of three beautiful children, ages 7, 4 and 3. All my births were natural and I breast-fed all three of my babies. Like most women, I intended to gain the recommended 25- 30 pounds with each pregnancy, but I ended up gaining 50+ pounds each time. I ate nutritious food – fruits, veggies, etc. – I just ate a lot because I was hungry ALL THE TIME, even in the middle of the night.
I received a lot of veiled hurtful remarks about my weight gain, like: "you were so thin before, I just assumed you would be a thin pregnant person", "wow, your baby is going to be gigantic" and "you don't really need to eat for two". Some people made comments that were outright hurtful, including my husband. It left me wondering, when did my weight become everyone else's business?
The photos below show what my body looks like now that my youngest (and last) child is almost three. I gradually lost the extra sixty pounds I had gained and I've taken up yoga. As for my last pic, I took it to disprove the myth that a natural delivery ruins your vagina. I know that c-sections are a blessing to those who truly need them, but so many women who don't need one are 'electing' to have one anyhow. Hopefully my photo will take away some of the fear associated with natural birth.
Motherhood has brought so much joy into my life and I hope that all the pregnant women and mothers who read this will realize how beautiful and special they are. Insist on celebrating yourself in all of your phases – you're worth it! : )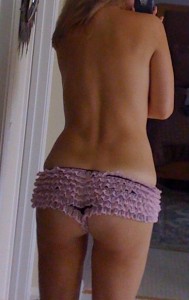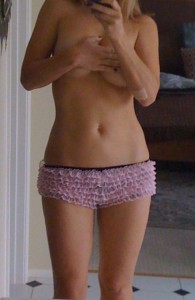 Third picture can be viewed here. It's more personal than most photos on this site, so I am not posting it within the entry itself. :)