I recently discovered SOAM and was happy to see a forum for discussing the changes women go through after childbirth. There seem to be a lot of younger women (20s) with beautiful bodies who post on this site, I wanted to share my story and pictures too. I'm 35 and have given birth to three children, with my recent child being born less than 6-months ago. I actually cried when we found it we were having our 3rd because I was finally happy with my body after our 2nd and the 3rd caught us by surprise. Now that we know we're done having kids, I want to look the best that I can. I was worried about all aspects of my body: stomach, butt, boobs, and the taboo topic area (vagina/labia). I've been very self-conscious about my body, even though I'm back to my pre-baby weight of 125lbs. I just wish things were tighter than they are. My husband is very supportive and tells me frequently how good I look and how I turn him on. It's nice to hear but I still miss my pre-baby body. Our sex life is still good too. I was worried what a 3rd vaginal delivery would do to me, but things still look the same down there and I can still orgasm like before. I'm posting these pictures, in part, to show other women what a women can look like after three pregnancies. My husband also encouraged me to post, telling me that I should be proud of how I look so soon after giving birth to our 3rd. Still nervous to submit but if you're reading this…..I mustered up enough courage to hit the send button. Thanks.
Age: 35
Pregnancies/births: 3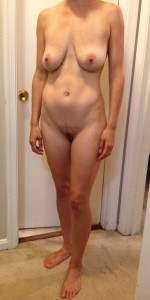 More intimate photos here.