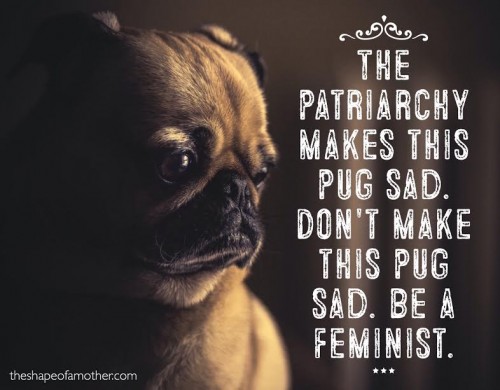 I have just become an influencer over at Mogul (onmogul.com) which is an up and coming new website for women worldwide. I'm super excited about this opportunity because I love Mogul's mission and the content I am seeing there so far seems to be really great quality. I love this short piece by Kelly Osbourne, and this post by Saundra Pelletier embodies so much of what I want SOAM's influence on the world to be. So go check it out, sign up, and follow me. Can't wait to help make the world a little better!
See something that belongs in the Feminist Fridays? send it to me either at my email address (theshapeofamother@gmail.com) or over on the Facebook page.
Some links worth your while:
~This is an absolutely heartbreaking story about a home abortion in the days before it was legal.
~This is… a… thing… that happened? Guys try having periods.
~Five feminist documentaries to watch now on Netflix – anyone want to do a watch together and discuss?
~I'm not really 100% sure what's going on here on Nintendo's end of the story, but I think we can all agree that Gamer Gate is just the worst.
Follow SOAM:
~Participate here on SOAM.
~TIAW on Tumblr, Pinterest and Facebook.
~SOAM on Twitter, Facebook, Instagram, and YouTube.
Going on in the SOAM community right now:
~Join in on our weekly photo project.
~Participate in our very special, collaborative ten-year anniversary video!
~Join our mailing list for the best way to keep up to date!