(Originally posted 4.28.09 at her blog.)
I hate the doctor who did the c-section to get Althea out. My midwives suggested it's possible I make scar tissue well and that an incision close to my first c-section wasn't an option. Maybe that's true. I still hate that doctor. First of all, she never even told me when the surgery was starting. Seems only courteous to say, "We're starting the procedure" or some such indication.
Then, rationality aside, I blame her for the ridiculously high incision. Wide, too. Sure, it will heal thinner and less obvious. But, it will never get lower or less wide.
In honor of TMI Tuesday (a weekly holiday I celebrate with Stephanie H. on Facebook) I'm going to share photos of the fucked up scar and the older and less fucked up scar.
Here's the first incision that I don't mind, about 6 years old.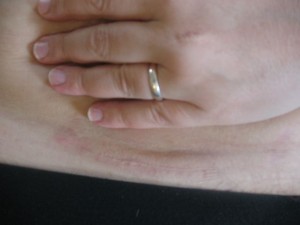 Certainly TMI because if you look closely I think some pubes are showing (on this and maybe each of them, I think). Not ideal, but I doubt a little hair ever hurt anyone. The thing is, this incision is *right* at the line of my pubic hair. The photo makes it seem like there's space but, really, it's about on top of the hair line. Barely visible when I'm naked.
Now, here's the second incision from almost three weeks ago.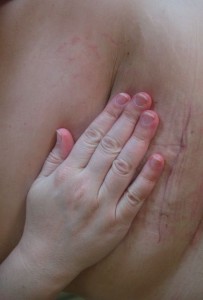 Sure, it's healing well. And, it will look different in another few weeks. But, do you see how close it is to my belly button? WTF? I can't imagine there's any reason for that thing to be so high up.(not sure why it's rotated funny)
This photo shows them both.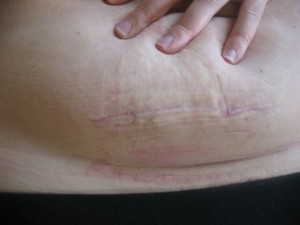 And, of course, you can see the slowly receding stretch marks. The badges of motherhood. If the higher up marks are any indication, these lower ones will fade almost entirely away. If I was vain enough I would have waited until the skin wrinkles (from my pajama pants) had faded away. But, here I am, in all my glory.
It's what a real woman looks like. A real woman who was cut by a fucking asshole surgeon.