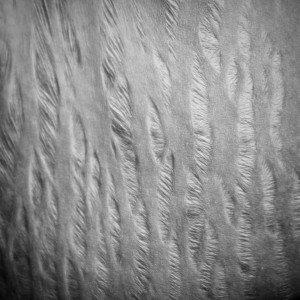 This is me. Your SOAM host. This was a big deal for me to share. I wrote a little bit about it on Instagram:
I created SOAM almost ten years ago and I don't think I've ever felt as naked as I do right now in sharing this photo. And I'm pretty sure I've actually posted a topless picture before! I took this picture a few years ago with my big camera. I thought that doing an almost-macro shot of my stretch marks would help me to see them in a new light. I thought if I could make them into art, I'd find them more beautiful. But when I loaded the photos onto my computer and looked at them, I was shocked. They were so much scarier up close than I'd expected, so much more violent. So I hid the photos away instead of sharing them. After all these years of work on my body image and I'm still struggling. It's really hard work to love yourself! And yet, almost five years after I hid away this picture, I'm ready to share it. My stretch marks are some of the most intense I've ever seen (and you know I've seen a lot over the years!) but that's okay. My stretch marks aren't my soul. My stretch marks are part of my story. My biography written into my skin. And this chapter is about how I became a mother to two amazing human beings. And that is kind of beautiful.
I have got a ton of really lovely responses. I shouldn't be surprised, of course. I mean, I've known how wonderful this community is for years now. But it still feels a little extra naked for me to share this because I can't just be anonymous here. And so I've been just uplifted by you guys once again. Here are some of the comments I've received:
"Seriously as I scrolled by I didn't notice the poster and I thought it was an art website I follow. I stopped because it was so beautiful- looks like sculptural trees. Truly beautiful." – Kristina M. B.
"love this so much. I see in this image the strength and fragility it takes to carry and birth a baby. The human body and mothering spirit is truly an amazing thing!" – Lauren B.
"I see an incredible amount of stretch and give that is needed to become an entity that can bear, birth and mold another spiritual being into existence. NOTHING to be ashamed of. Beautiful." – Amber D.
"Its beautiful to see how our skin is so strong yet so delicate" – Bernadette L.

And a couple that I found really powerful:
"They *are* violent, and a testament to the incredible strength of a woman's body to create and house new human life. Pregnancy and birth have degrees of violence to them that we do a disservice to ourselves by denying." – Leah M.
"Oh, honey. Even if your stretch marks were your soul, they would not be something to be ashamed of. They would still show your beauty." – Heidi S.-P.
And, honestly, she's so right. I think I was trying to say that they are not my entire aspect, they are not all of me, in and out. They are but one facet of who I am, and they are absolutely important enough to be my soul, aren't they? My children are parts of my soul and they've written on me in love so that no matter how they grow, they will also still always be within reach of my touch.