Reposted by request, originally posted at The Swanson Life
I miss those favorite pair of jeans.
You know the ones you put on and they feel just right. Comfortable, sexy, and accentuates your figure perfectly. Those sweet little favorites of mine have been hanging in the back of my closet, quietly awaiting the day when I can put them on again. My sad little favorite pair of jeans… still hanging… since 3 years ago.
Add to that my favorite little jackets that fit too snugly in my arms now. The tight fitted shirts that now accentuate too much of my hanging post pregnancy belly—making me look like I'm 4-5 months pregnant again. Oh and my sparkly necklaces and bracelets that I have to avoid for fear of my twin toddlers or 5 month old baby girl yanking them off my neck and wrists, strangling me in the process.
My favorites now are my black maternity leggings or stretchy yoga pants that hide the extra girth I've gained down under. I love flowy lose-fitted tops that hide my squishy ill-formed belly and makes it easier to nurse that sweet baby girl of mine. And to hide those sausage arms of mine I've resorted to ¾ sleeve cover-ups or tops that drape ever so loosely off the shoulder.
But oh how I love these sweet babies of mine.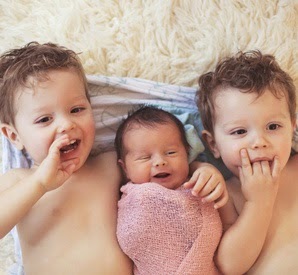 And I would never trade these post-pregnancy issues of mine if it meant not having my sweet twin boys and happy baby girl. But man were those pregnancies ROUGH on me—in many ways—but specifically physically. Having a twin pregnancy, and then polyhydramnios with BOTH pregnancies, you can imagine how far my stomach had to stretch. Actually you don't even have to imagine…check out these pictures!
39 weeks single pregnancy polyhydramnios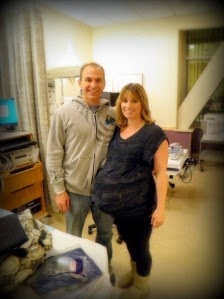 35 weeks with twins and polyhydramnios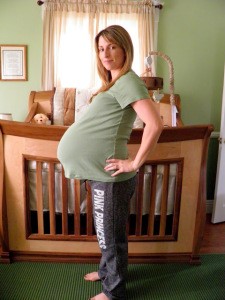 WOW.
With these pregnancies of mine came lots of permanent changes to my body, which I'm starting to force myself to be OK with. I'm learning I'm not alone in this, that there are many women out there experiencing the same changes to their bodies after pregnancy that just won't go away with diet and exercise. Some things that are simply not reversible. Even with the ever increasingly popular plastic surgeries that women are getting, it still may not do everything you want it to do.
And so, we need to learn to love ourselves again; our new body, our new scars, new marks and new figure—which may be our new image now. We will never be our 20 year old bodies again. Our bodies are meant to grow, reach its peak, and then meant to start the process of breaking down. I'm not saying to "let go" of yourself and give up working out and eating healthy to get back into shape again. But I think we need to be realistic of ourselves.
Maybe you are one of the lucky ones where your pregnancies were easy and your body is the same as it was before you started having babies. And maybe you look even BETTER than you did before you had kids, which is totally awesome!
BUT to those who feel like me and are struggling to gain your sense of self-esteem and beauty again when you look at your naked body in the mirror, or try on your old clothes that don't fit or look cute on you anymore due to the toil of pregnancies—I'm speaking to you.
You're not alone.
I'm trying to remember that my beauty is not simply on the outside. There is an inner beauty to each of us that is more important to develop and nurture than what we see on the outside. Something that won't cripple with age but merely becomes more beautiful over time if we continue to cultivate it.
I want to be that older woman with a sparkle still in her eyes, smile lines around her face from years of laughter, strong wrinkly hands that show the hard work of motherhood—and exude a joy that surpasses any of life's circumstances. This doesn't happen by chance, but is a choice I have to make and continue to make daily. To love myself. And not in a narcissistic way. But love the person God has created me to be:
A mommy of twins and a baby girl—all under 2—gaining patience and strength through mothering that I never knew I had.
A woman struggling with depression but learning through Gods word and his teachings how to gain control over it instead of it controlling me.
A wife who serves her husband with thankfulness instead of discontentment with the stresses of life.
A friend who encourages and uplifts others to reach their full potential in life instead of breaking
them down by gossiping to others about their issues.
I want to be the kind of woman that exudes love to others, and in order to do that I need to begin to love myself again. I can do this best by remembering Gods love for me, that he loves me no matter what—the good and the bad. No matter how unlovable I think I am. This applies to all of you as well.
A quote from Mother Teresa, a woman with some of the greatest inner beauty, bestowing so much love to all she came in contact with, setting an amazing example, I believe for all women to follow said this…
"Let us always meet each other with a smile, for the smile is the beginning of love."
I will keep working on my inner beauty since that is more important than what I see on the outside. However, I will still be working towards trying to fit in my favorite pair of jeans again…
Samuel 16:7 "The LORD does not look at the things [woman] looks at. [Woman] looks at the outward appearance, but the LORD looks at the heart."