Hi I am a 2x Gestational Surrogate. I also have 2 kids of my own Baylee 11 and Tyler 5. I am a proud surrogate of 2 baby girls. One born 2/27/07, and another born 8/25/08. I am proud of all 4 babies I have given birth to. However my first child was the pregnancy to give me my lovely stretch marks and chubb. All 3 other pregnancies gave me no additional stretch marks. My weight has been up and down over the years. I am actually at my lowest now 140lbs. I am proud of this as this is after 4 pregnancies. I would not change a thing, but do admitt I wish I did not have the stretch marks and chubb around the belly. My 2 kids were vaginal births in 1997, and one in 2003. My first surrogate baby was an emergrncy c-section, and my second surrogate baby was a repeat c-section. I am proud of them all. And have grown to accept my body as it is.

Here I am 38 weeks along with my 4th pregnancy. This pregnancy was my second surrogate baby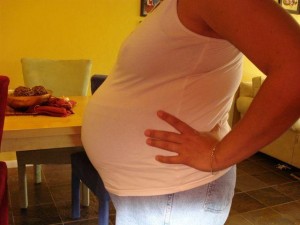 This is me after my 3rd pregnancy and first surrogate baby. See how heavy I still was. Im the lady on the right.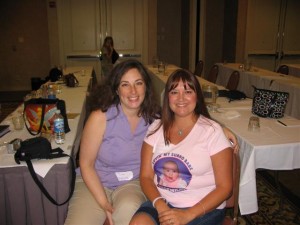 Here I am at 26 weeks along with my 4th surrogate baby. This is my son Tyler 5yrs old.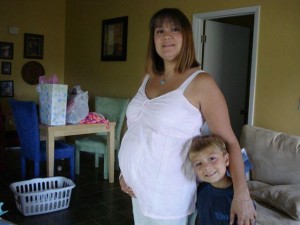 This is me Christmas 2008 with Tyler again. After 4 pregnancies. I lost 42 lbs since delivering my last baby and that is 15 less than before I was pregnant. I am very proud of myself as I have always been over weight.