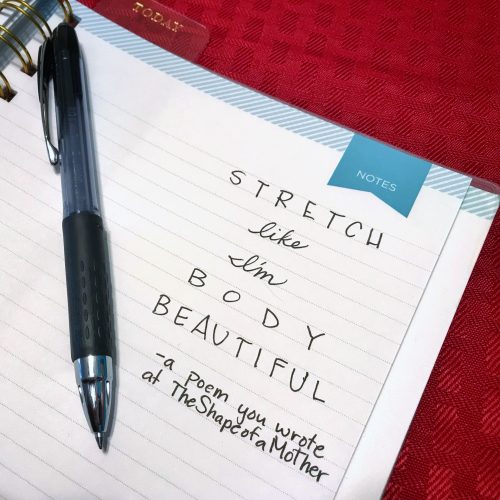 Inspired by a project I had in my digital humanities class this past semester, I created this word cloud from your entries here. For this particular cloud, I pulled the top 10 posts under the category of "Positive Body Image/Words of Encouragement" and fed them (anonymously, of course!) into the processor at Voyant. It gave me this cloud.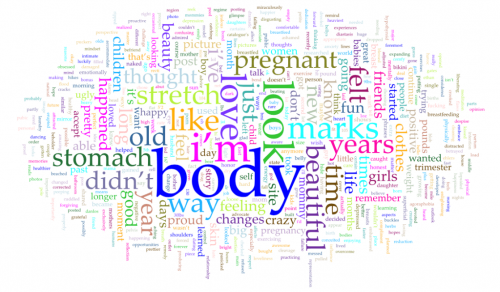 I love words, I love word clouds, and I love to immerse myself in them and look at them closely. They are a kind of found poetry, and I love to use them to create more found poetry. For instance, right off the bat, I see:
stretch like I'm body beautiful
And then:
pregnant love just marks
But I think my favorite is:
advocate changes big
By shifting these words around, we find new meaning in them. New ideas that already exist subconsciously in our hearts – or that we can choose to weave into the fabric of our future thoughts.
It is also important to examine the size of the word "body" in terms of the rest. It appears more often than any other word. Of course, this is a website dealing with bodies, so it's expected to loom over all of our posts, but that doesn't make it any less significant to see it displayed this way for us. Sometimes to see something from a new angle gives us a refreshed view of it. This is a reminder how much our physical appearance is of importance to us. Perhaps it is time to focus on the other words that help to make up our whole selves?
memories
miraculously
embrace
overcome
dancing
women
mother
self
story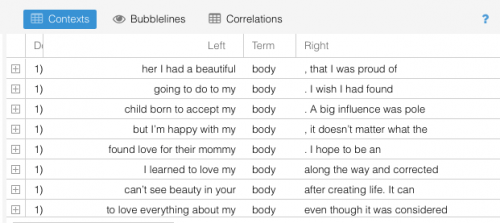 Voyant does more than word clouds, though, and this particular tool was interesting as well. It really showed what people were saying about their bodies. The first thing that strikes me here is how much work went into body image in these posts. "Found love for the mommy body" or "Learned to love" or accept my body". This is not a passive act, it is hard work, daily. The second thing that strikes me is that some of these top "bodyposi" posts are minimizing themselves.. "Love everything about my body even though.." We have to temper anything good we say or feel about ourselves – and that is why the work is hard. Not only do we have to relearn how to view ourselves outside of the negativity society imposes upon us, but we also have to do it so carefully that we do not become ostracized by society. It seems – and in fact it is! – contradictory. The line to walk here is very thin and often unclear. A woman who is too down on her body is "negative" or "focused on the wrong things" but a woman who is unapologetic about her looks is "conceited" or "full of herself." There is no real good option which is why women trying so hard to find how to love themselves tend to pair their intentions ("I love my body") with a caveat of some sort ("even though…"). I know I often do this, even within feminist circles, even to my closest friends who truly know my soul, when I am talking about my abilities. "I know it sounds stuck up to just say it like this, but you know I'm trying to drop those patriarchal rules so…."
The goal is that someday, we won't feel the need to minimize our beauty and our talents and our gifts. That is the work we are doing here at SOAM.
How do you do this work in your life? Do you feel this struggle? How do you manage it? How can you work this year to grow from this? What does "growth" mean to you in this area?