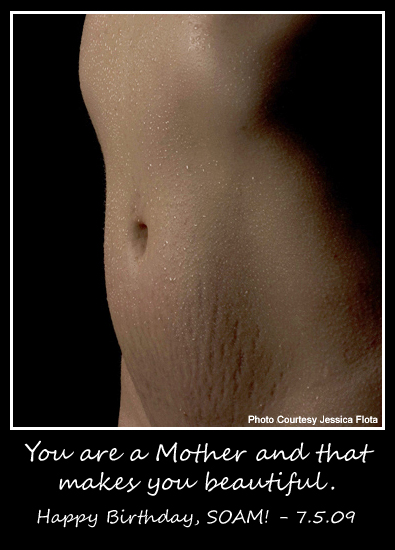 Three years ago today, I created the first post for this website. I agonized over whether this idea would succeed or if it would fall flat on its face. I begged my friends to submit photos and to pass the word on. And then within a month, I was receiving thousands of hits daily, had done an interview on Canadian radio, other interviews for online magazines and was absolutely floored to have been featured in the London Guardian. The immediate success of the site speaks volumes about how desperately such a source was needed.
I am honored to have been a part of this and honored that you all have been on this journey with me. We have made a difference already in this world, but we have a lot more work to do. So today, as a present to this website, say something nice about your mama body. You don't have to mean it yet – that will come later – you just have to get the words out of your mouth. After all your body worked hard for you and your babies. Give it some thanks and admiration. Leave me a comment here telling me what you said and then pass along the link to this page to all your mama friends.
Here's to another year and many more!
(Thanks to Dave Flota Photography for use of the photo!)