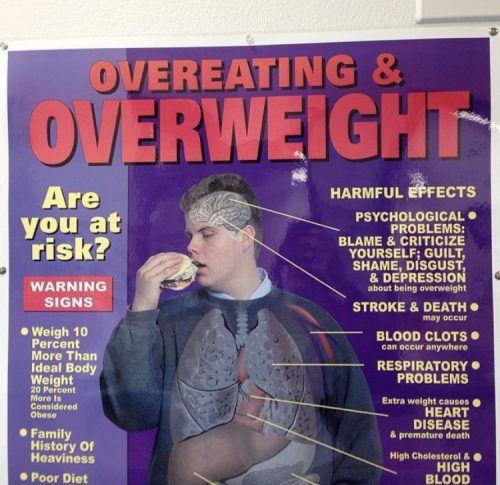 A few years ago when I was enrolling my oldest child in middle school, I had to drop off some forms at the school nurse and I saw this poster. It made my blood boil because the very first thing listed for harmful effects due to overeating and overweight was "Psychological problems."
I want to be very clear here: Being fat does not cause psychological problems. Being fat does not cause blame, guilt, shame, disgust, or depression. Those things are all caused by fat phobia.
One more time: Being fat does not cause psychological problems.
But this is the message we are sending kids who are struggling at the most physically sensitive time in their lives. Puberty and brain development are on overdrive at this age as kids become aware of their bodies on a whole new level (and I don't mean simply in a sexual way, but there is a deeper cognitive understanding of their physical shape and size and how it relates to the world going on at this age as well). Weight is already driven home in every aspect of our daily lives and as we bring media deeper into our consciousness through our devices and new, more insidious forms of advertising, these messages get harder and harder to notice and to critique. So these kids head into their new school which will be the driving force of their entire lives for the next two years and they see this sign and it says two things. To fat kids (or kids who believe they are fat) it says they are at fault for their size. To everyone else it says that bullying is okay – of course it doesn't say that in so many words, but that is the message that inevitably ultimately settles into social habits in the brain.
So here's the question: Are fat people to blame for their size? Sometimes, sure. Other times, they aren't. For one thing, there are many physical conditions such as hypothyroid that cause weight gain and equally make it difficult to lose weight. And, of course, there are also life-saving medications that cause weight gain. Antidepressants or steroids can do this. And it's a side effect to keeping a person alive and functioning, in which case Medicine has decided that weight gain is a better choice than not functioning or not surviving. Overweight is also a class issue and a disability issue where poverty or disabilities can lead to weight gain through lack of accessibility. But there's yet another form of overweight caused by dieting. We have known for years that diets don't work. They can sometimes shock your body into weight loss, but in doing so, the body reads its recent starvation as a time of famine and it slows the metabolism. Permanently. In this case, people have been trying to follow the good advice, often given to them by a doctor, but it is not sound science and it ultimately fails the person who is trying so hard to "be good."
The bottom line is that overweight is a wildly complex issue and simply cannot be reduced to just one facet.
Quite literally the only thing you can determine from looking at someone's size is your own personal bias against fatness.
(Someone awesome said that and I can't find the actual quote to give credit right now. If you know who said it, leave me a comment and I'll edit.)
Okay, you're thinking, but if I KNOW someone eats unhealthy and doesn't do anything to lose weight, surely I can judge them then, right?
Nope!
But, you say, I'm doing it for their heath. I care about their health!
This is a noble intention, yes, but just stop and listen for a minute.
Because here's the thing: people who live in fat bodies are humans. You don't have to be a Christian to recognize that Jesus was a pretty wise dude and when he said "Do not judge," it's good advice. Judging places us in opposite corners, it creates a false sense of separateness. It isolates the person you are wanting to care for and reinforces the lies society tells us, as illustrated by the poster in my kid's middle school. Depression lies in and of itself, and it's hard enough to learn to determine the difference between what are and are not lies, but when you also hear these same lies in every corner of your life, it will, in fact, beat you down until you simply cannot function anymore. And to reiterate, the lies I'm speaking of aren't about whether or not weight gain causes other physical ailments, but whether or not weight gain causes guilt or shame. It does not. Ever.
The fact is that people do unhealthy shit all the time. We drink too much or we don't exercise, we don't always wear seat belts or we smoke cigarettes. We go to tanning salons despite knowing the risks. We fuck up all the time. But no one is judged quite like fat people. And it always assumed their weight is their fault. Why? Why do we pick one sin and make that the one we are so cruelly vocal about?
Because you know what? A ton of thin people eat like crap and never exercise, but because their genes aren't expressed in a proclivity to gain weight, we look at them and assume they must be healthy.
That right there? Is the ultimate proof that fat phobia isn't about health at all; it is about size and it is only about size.
Last Friday night I shared a progressive ad from plus size store Torrid which featured an overweight woman rocking a bikini. I especially liked this ad because, unlike so many attempts at size diversity, this woman wasn't too smooth, and she wasn't just a little chubby. She looked more like me with my weird lumps and cellulite. I liked seeing someone like that feeling confident in a bikini because it inspired me to remember that my body is just a body and I deserve not only to feel confident, but also to feel the splash of the ocean and the warmth of the sun. Fat people deserve joy just as much as thin people. Why? Because we are people. Period.
But the post blew up and we spent the next couple of days arguing over whether or not this ad should even exist. The excuses thrown into the mix included everything from "This is simply bad marketing because the people who would want to look like this model are too few and far between" (I mean, I think Torrid is kind of doing okay right now) to "I'm not fat phobic because I do not literally have a phobia about fat" (which is not even the way the word is used here, it's arguing false semantics). Ultimately it boiled down to not wanting to normalize fatness. But fatness is already normal. People are fat. People need clothes. Fat people need clothes that fit them. Companies make those clothes. Companies want people to know they exist so they must advertise. By banning such ads, not only are you erasing an entire population of people from media exposure (the absolute antithesis of SOAM's founding principles, might I add?), but you are also insinuating that you don't want fat people clothed, or at least not in anything cute that might accidentally make them feel good about themselves.
There is a lot of information out there suggesting that fat may not be as dangerous as we have believed for so long, but this post isn't even about that. Because that's irrelevant. The point of this post is that fat people are PEOPLE. And people deserve equity. People deserve to feel cute. People deserve to feel joy. End of story. Period. It is nearly impossible to have a conversation about this with people who are not yet acquainted with these principles – and I get that, I really do! Ideal body size is a construct and constructs are nearly impossible to see and even harder to entirely demolish. I've been working with SOAM for 13 years and with body image for most of my life and I still struggle with it. I promise you, it's okay to have a hard time grasping this shit if it's new for you. But the reason it's so hard to discuss is because every argument will inevitably go back to "but health…?" It's time to fully separate health from fatness, and it's the only way to move forward. Health IS important, yes, but not only is size a poor indicator of health (cholesterol, blood pressure, etc. are much better indicators), but another person's health is not your business. Even if you love them. I promise. Shame never healed anyone.
Because I know people will be asking, I'll make a simple acknowledgement that offering support is always loving and wonderful, but it absolutely must be with consent and on the person's own terms because they are the only person on this planet who is an expert in themselves, and only they know which steps they need to take in their life at this moment.
So please, think about the people living inside the bodies, rather than the bodies themselves. End fat shaming. Now.