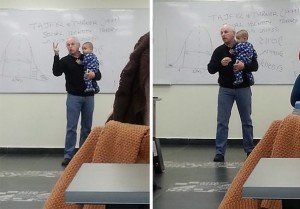 You probably saw this photo of this professor last week on the internet. A student in one of his classes in Israel had to bring her baby to class, and when the baby started fussing, she made to leave, but her professor took the baby and soothed him and continued teaching. Which is amazing. I think at least six different people shared it with me on Facebook since the photo went viral. Because the opposite situation of this one happened to me just a few weeks ago.
I'm a single mom and I'm trying to finish my degree finally, years after putting it on hold for many complicated reasons. I don't have many resources to turn to for babysitting and on one particular day I couldn't find anyone to watch my 10 year old son. Rather than miss valuable information in a math class, I decided to take him with me. I won't go into the whole boring, overly dramatic story except to say that I had planned very carefully how to keep him quiet for a whole two hours, I understood I may have to leave if he was disruptive, and yet my college broke their own policy protecting parents and refused to allow me to attend my class. It became a kind of a big deal, I wrote letters to about 20 different people in charge of the college and was given several good apologies almost immediately.
But the whole thing taught me a really important lesson about being a woman, maybe especially a mother. You're gonna have to struggle the whole way. Not only does the necessity of finding a babysitter for my children fall entirely on me, but there aren't a lot of resources to help a mom through her education. (I also wonder how a father bringing his child to school would have been received – I suspect it would have been honored for being a responsible father. Honestly, the double standard there is just as harmful for dads as it is for moms. To be surprised when a man is a good father is an insult to men in general.)
So when this professor took that child and allowed that mother to continue her education he made a statement. He told her and all women that he values them, they they deserve the chance to learn, that he will help them succeed. He taught everyone in that class that kids are a normal part of humanity, that mothering is a normal part of humanity to be embraced and supported rather than shunted off, out of view of the world. I mean, really, when you look at it from a biological point of view, parenting children is the actual reason for the human race.
I get it that kids can be disruptive. Believe me. I get that. But think how much better the world could be if children were accepted and expected, if moms were supported in their endeavors to better their lives? We need more men like this. Standing ovation to you, Dr. Engleberg. Thank you.
Now. Onto other stuff this week!
Follow SOAM:
~TIAW on Tumblr, Pinterest and Facebook.
~SOAM on Twitter and Facebook.
~Participate here on SOAM.
Links:
~People can have misconceptions about miscarriage, and that can hurt. An article from NPR.org that I think too many mamas here at SOAM will relate to. Love you mamas, and your angels.
~This is such an important list I'm gonna save it and link to it permanently.
~Don't judge people you see based on looks alone. You can never ever know the whole story.
~Learning to love our bodies can be complicated in so many ways. Sometimes they don't look the way you want, but sometimes they don't work the way they should.
~Check out the #girls with toys tag on Twitter. Awesome stuff.
See something that belongs in the Feminist Fridays? send it to me either at my email address (theshapeofamother@gmail.com) or over on the Facebook page.