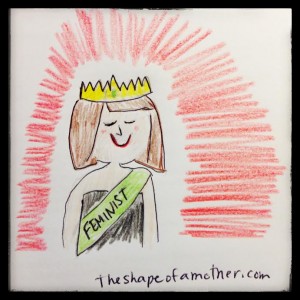 ~TIAW on Tumblr, Pinterest and Facebook.
~SOAM on Twitter and Facebook.
~Participate here on SOAM.
Around the Web:
~With Leonard Nimoy's passing, we take a look back at his photographic art featuring plus-size women.
~Emma Watson (actual real life Feminist Queen) said some pretty great stuff on feminism. I'm so glad girls have her (and Hermione!) to look up to.
~Something called a "gentle cesarean" sounds like a beautiful thing.
~A series of photos of roller derby women – fitness can come in all shapes and sizes. And every one of these ladies is BEAUTIFUL.
~This is beautifully written. And if you haven't yet read Eleanor & Park (or any of Rainbow's other books) PLEASE DO SO. Eleanor is fat and it's not, in fact, the focus of the story. She doesn't become thin or want to. She's lovable and beautiful just as she is. But grab your tissues, okay, because this book has a lot of FEELS.
See something that belongs in the Feminist Fridays? send it to me either at my email address (theshapeofamother@gmail.com) or over on the Facebook page.