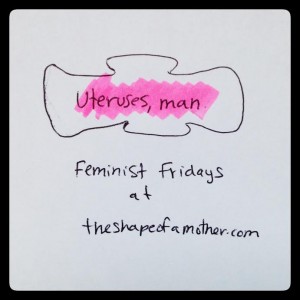 ~TIAW on Tumblr, Pinterest and Facebook.
~SOAM on Twitter and Facebook.
~Participate here on SOAM.
Around the Web:
~18 Inventions By Women that Changed the World
~This woman refused to remove her birthmark. And you know what? She's gorgeous just as she is.
~This photo was removed from Instagram despite not breaking any rules. Why? Uteruses, man.
~There is a lot of controversy over the word "feminism" these days and most of the time I feel strongly that everyone should make a stand for feminism. But this comic has shown me that things are not quite as black and white as they might seem to me. I hope that someday the word "feminism" doesn't alienate anyone it should protect.
~These nude portraits of women are stunning. Always remember that bodies come in so many shapes and sizes and all of them are amazing and beautiful.
~I love this.
See something that belongs in the Feminist Fridays? send it to me either at my email address (theshapeofamother@gmail.com) or over on the Facebook page.