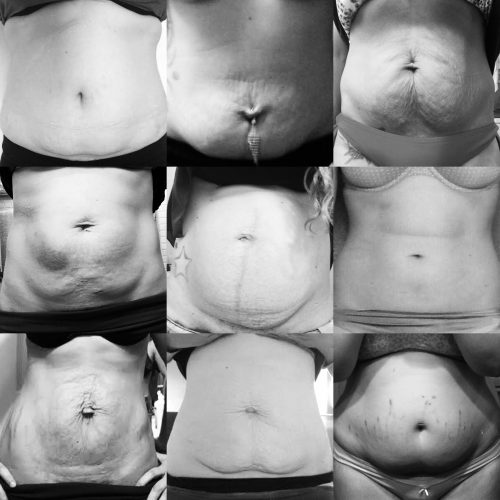 Look at these beautiful bellies. All of them different. All of them once home to a brand new human being. How beautiful is that concept? But I would go farther and even say that they are just beautiful at face value. Perfect and beautiful just as they are.
This site has meant a lot to a lot of women over the years. There is a growing movement right now to question the status quo about how to define beauty and this is massively important to all women and men. SOAM is what this movement is all about. Women who have participated here have said that they appreciate the support they receive here and for every woman who posts her own story, countless others benefit from seeing all kinds of mama bodies. Maybe you will consider taking a moment to snap a quick picture of your body to help us keep SOAM making changes in the world for us and for those babies who have changed us so wonderfully.
All types of submissions are always accepted and cherished, but we are particularly lacking in stories from women of color and I'd love to see that change. We would also benefit from stories of women struggling with fertility, women who have chosen adoption or surrogacy, women who have struggled with surgeries during pregnancy or other unusual health problems, trans women and men who have thoughts to share on the subject of mama (or papa) bodies, and any other situation that you can think of that needs to be talked about more. It seems to me that the more we talk about those unusual situations, the more people benefit from finding out that they are not alone.
Please take a moment to join us. If you aren't ready for that yet (that's okay, too!), consider sharing this link with your friends and family or maybe even with your local news sources. The more women who participate here, the bigger the difference we can make!
Love you, beautiful mamas!
Join us in showing the world how beautiful the mama body is. Click here to participate.
The bellies in the photo collage above were graciously shared by the mamas in the following entries:
Top row
"A Message for All Moms"
"Daily Struggle"
"Still Struggling"
Middle row
"Update"
"I Feel So Alone"
"Beauty Comes From Within"
Bottom row
"Twin Mom"
"Learning to Love My Body Again One Day at a Time"
"My Story and Photos"