Why is it, that as women, when we are at our best, we look into ourselves and label it the "worst"?
We never seem to realize how great we are until we fall below that bar that we have set so ridiculously high for ourselves!
It is sad to see, hear, and live. And all it seems to do is cause shame and the sense of unworthiness.
And why?
Because we are not a size 0? Because we have stretch marks here, there, and every where? Because we have that last inch or more of skin that has decided it has lost all elasticity and would rather droop down then suck back up and give us a smooth, T.V. worthy tummy? Because our once perky, teenage breasts now have that motherly sag?
Because we lose our cool and yell? Because once in a while we spend an extra 5 minutes in the shower just to avoid the inevitable screaming, crying, and fighting children? Because sometimes we skip on sweeping the floors because 4 times a day just seems like enough some days? Because after making breakfast, changing diapers, doing 6 loads of laundry, plugging your ears during screaming fits, not to mention trying to make something worthy of eating for dinner, we would rather just sit on the couch for a solid 5 minutes of silence? Because, yes, we do break down and instead of stopping the children from crying, we just join them?
And because we do all these things, and have the "imperfect" yet, perfectly beautiful bodies, we feel shame and unworthiness? When did the image of a mother's body, no matter the age, go from a natural woman, stretch marked and sagged, to an air brushed, breast implanted, and stretch mark free woman?
I want to know, because the exact millisecond this took place, women lost their pride and self esteem, and all I want is for all the women and mommies out there, to have that back.
It saddens me to read of women that are ashamed and misplaced mentally, to read stories of women that are mentally, emotionally, and physically abused by husbands, family, and friends, because they are no longer beautiful, because their bodies have become "tainted" all because we have brought beautiful gifts from God into this world.
What is our world coming to?
Why are women only perfect in magazines, and then expected to portray that on a day to day basis, and if that is not possible, then we might as well cover head to toe so no one witnesses the damaged bodies?
I love myself, 20 lbs heavier, 10 lbs lighter, skin a little looser, skin a little darker, a few less stretch marks ago… this is who I am. And I hope you can love yourself too, because that is what we are meant to do: Love ourselves. If we can do that, than we can do anything.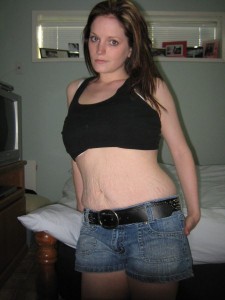 Updated here.