I'm back kinda! Long story very short (more later), I'm disabled enough right now that I cannot work full time so I'm currently planning to bring life back to SOAM both in its historic form of honoring the mama body, but also in new ways. One of my favorite things is history so here is the first in a new series of posts about underrated badass bitches from history. It seems appropriate that I should choose a badass black mama for this first one as it's Black History Month. Let me know what you think and who you'd like to know more about in the future!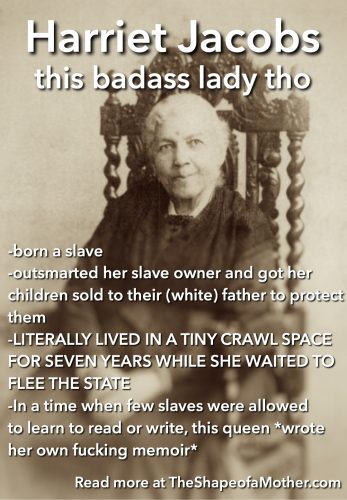 Today I'm thinking about Harriet Jacobs. Look. This lady was a fucking badass. She was born a slave and wound up as a young girl in the ownership of this real fucky fucker named Norcom. She was pretty so Norcom fancied her especially and began building a home for her so that he could keep her to himself. Fucking scary.
So she starts a relationship with this other white dude who, iirc, was like pretty decent for a white dude at the time. His name was Sawyer and he was fairly influential at the time. She gets pregnant with his baby and, as punishment, her owner's wife banishes her and threatens to kill her, so she lives with her grandma while she has two kids with this halfway decent white dude, Sawyer.
So Norcom, her abuser/owner, won't leave her the fuck alone even tho she's got this other white guy. He comes to harass her at her grandmother's after she has her babies. He likes to remind her of his position as owner of her and now of her children. So when she's just 21, she fucking runs away. Sorta.
Ultimately she winds up- and this is the fucking superhuman bit – SHE LIVES IN A TEENY SPACE UNDER HER GRANDMOTHER'S ROOF. LIKE 9x7x3. And she lives there FOR SEVEN GODDAMN YEARS. Her uncle had some mad carpentry skills so he built a little trap door that was nearly invisible if you didn't know it was there. She'd come down in the dark of night to stretch her legs and do her business and then she hid away again.
Her babies were so young that she couldn't let her kids know she was nearby in case they let it slip so they had to believe she'd gone. Harriet would peek at them from her crawl space during the days and watch them play. I can't even imagine the kind of heartbreak she must have had to live in during this time. To watch her children grow up before her eyes, but without her.
Her abuser/owner got a little pissed off and figured he'd revenge her by selling her kids and her brother. BUT NEVER FRET because this Sawyer dude was waiting there to trick Norcom into selling them. He hired a slave trader to make the offer and Norcom didn't realize Sawyer was behind this trick. There is some bullshit slave law crap about why you can't just like buy people and then set them free so it was the best option at the time and the kids were able to remain living with their grandmother.
Eventually Harriet was able to leave not only the attic space, but also the state. She settled in New York and worked to free as much of her family as she could. Since she had been lucky enough to have been taught to read and write, she was able to write her own memoir. Which is fucking rad just FYI and you should read it. This is all the very short version. There are many more twists and turns in her book. She writes of her struggles to balance the Christian morality ideals (ie to not have sex outside of marriage) with her reality as a slave (being that sometimes you gotta bang a dude to save your life). She struggled openly and honestly with the very simple concept of bringing children into slavery at all:
"Sometimes I wished that [my son] might die in infancy. God tried me. My darling became very ill. The bright eyes grew full, and the little feet and hands were so icy cold that I thought death had already touched them. I had prayed for his death, but never so earnestly as I now prayed for his life; and my prayer was heard. Alas, what mockery it is for a slave mother to try to pray back her dying child to life! Death is better than slavery" (p 80).
Harriet Jacobs was such a skilled and honest writer that I hope you choose to read her book. In fact, you can read it FREE at Project Gutenberg. Click here!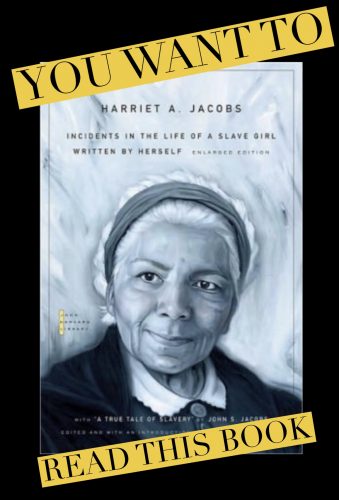 Slavery is over in the US (well. that's debatable) but the effects are still present today. Reading narratives directly from the minds of black women and men throughout history is important work.
Harriet is a woman I hold in my heart when things seem impossible. I hope she means as much to you as she does to me.
(One last thing- if you do decide to read her book, note that she uses fake names for all the people in her life in order to protect them as best she could from retribution. In this post I've used their real names.)
I'd like to do more of these posts in the future. Who are your favorite underrated badass bitches (or dudes or anyone except cis straight white men bc they have enough spotlight)? Leave me a comment and I may choose yours!