(originally sumbitted 7/9/07)
My name is Amanda. I want to share my brief story and pictures to everyone.
I became pregnant January of 2006 at the ripe age of eighteen years old. My ex boyfriend and I were very in love, but well you know how that story goes. Needless to say he isn't in our life anymore, and it really is for the best.
My daughter Sofia Marie was born on October 17, 2006. I was barely nineteen when she was born. She is almost nine months old now. I cannot believe how fast time has flown by. In three months she will be a year old!
I was very thin when I became pregnant. I probably weighed about 115 pounds at 5ft 6in. I gained about fifty-seven pounds over those nine months. I have lost a lot of weight but not enough for me to be completely satisfied. I weigh in right now at 130 pounds. I wouldn't mind losing another fifteen to twenty pounds. I have struggled with eating disorders and issues with my weight for many years. I struggle daily with my weight and size. I know it is something that I will probably struggle with for a while. I also dance ballet quite intensely so its hard not to look at the emaciated girls that surround me daily and compare myself to them. I remind myself that they haven't given birth. It still doesn't make it hurt any less.
As for the strech mark department I got off fairly easy. My stomach doesn't have any. The ones on my breasts were really bad, but they have faded now. I have a few on my inner thighs.
This was me in my four pack glory. I will never have that definition ever again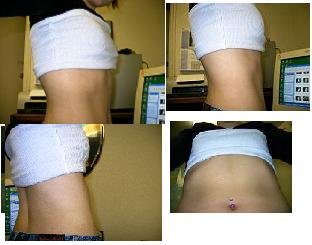 Shortly before my daughter was born…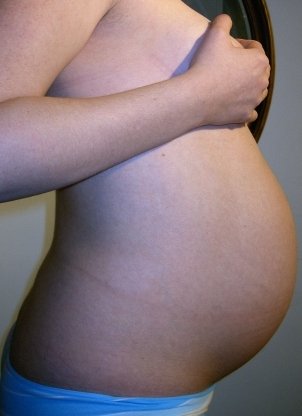 This is about eight months post partum.