A silhouette is our shadow, but with substance, with ourselves not removed. We can look at our outlines only, at those parts of ourselves which touch the reality that surrounds us. To photograph our silhouette is to focus on the lightness beyond which highlights our own darkness. This might sound like a big downer, but it's really not. We have no lightness within us without our own darknesses. We must face our own darknesses to allow our lightness to shine on who we really are. And, often the darkness within us isn't evil or bad, but simply quiet and sleepy. A silhouette allows us to focus on our lightness perhaps ironically while highlighting our darkness.
I loved the photos this week.
When I began thinking of my own, I wasn't sure what I wanted to do. I considered an old shot of me against the Winter Solstice sunrise, but I wanted to put intention into this week's theme so I decided to purposely take a new one. And since I weigh rather more than I did when I took my favorite silhouette self-portraits, I decided I would make my new, larger body the subject of this piece of art I wanted to make.
Putting intention into art is like a prayer, or like magic. So I created a whole process for this piece so that I could really focus on this magic of making me into art. I set up a tripod, I created the lighting, I took the photos, and then I edited them together into one. Both of those are me. Where I started with intention, the art took over and completed the message: Me, dancing slightly out of sync with myself, but still in harmony. I tried to put this into words when I originally shared it on Instagram, but I had none at the time and decided to allow the photo to speak for me.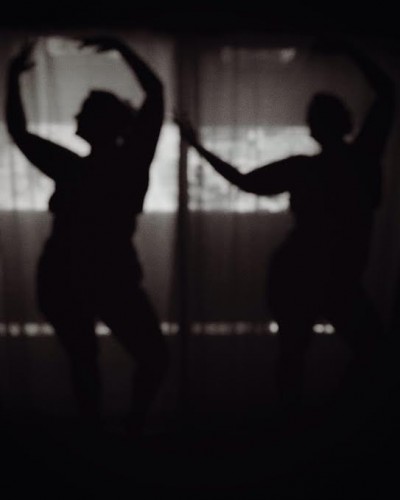 All selfies are art. Anything that you put out into the world, where you share your you-ness, is art. Snapping a quick pic in the carpool line at the elementary school is art. Snapping a makeup-free bedhead is art. All art is magic. But sometimes you need to take the moment to put a little more intention into your art. Make the magic a little stronger.
Thanks for participating, guys! This week's theme is love.