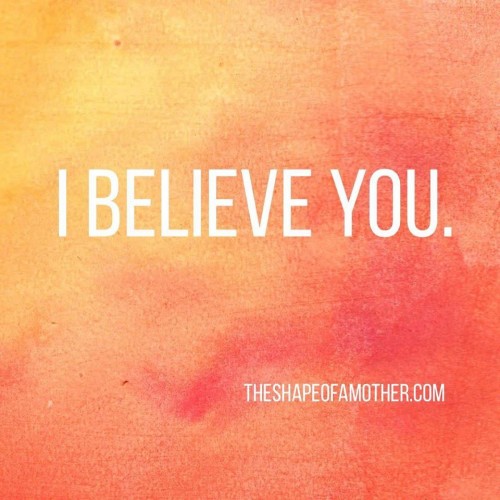 TW: Sexual Violence
These past two weeks have been awful for so many survivors of sexual violence. To not only hear these triggering things being spoken of so often in the media, but to hear them being denied and erased, and to hear these survivors, particularly Dr. Ford, absolutely torn apart both in the media and in congress.
To have an abuser refuse to acknowledge an abuse (which is, of course, the most common patten) is deeply damaging. To have an entire nation refuse to acknowledge a specific instance as well as an entire culture of abuses can be traumatizing – and I am not using hyperbole when I say that.
I listened to as much as I could of the hearing in DC today and, even though I am not personally triggered by this subject, I could only handle so much. I have so much respect for Dr. Ford for sitting through that as bravely as she did. She is truly a beacon of strength. She is a American hero. I believe her.
And I want you, my readers, to know that I also believe you. No questions asked. I believe you. I know that the statistics of false rape reports are fewer than 2%. I know that it is hard to come forward because of fears of not being believed, or because of fears of retaliation from your abuser and/or their community. I know that most rapes are never reported and I know that 36 years makes no difference whatsoever in terms of legitimacy of your claim, or in terms of your trauma and healing. I don't need explanations. I believe you.
Friends, please make sure you are registered to vote and get out there come November and help take this country back from those who would harm us. Women's health is very much on the line right now and we must take that more seriously than ever. Every vote counts, but we need to get out there and make our voices heard. We've seen the direction this country is headed in – let's take it back!
So much love to you all.