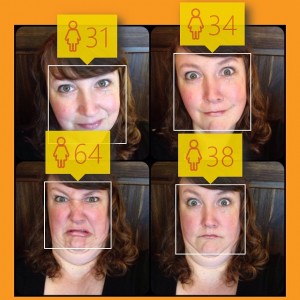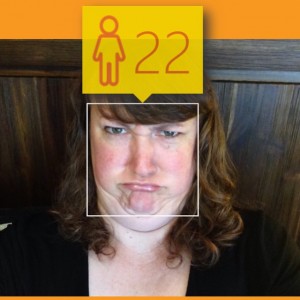 So I know I'm behind the times on this (that's how I roll) (as evidenced by my usage of the phrase "that's how I roll") but as I was going through my links for today's post, I found this one by The Bloggess. She is my personal hero, of course. While silly, I also think this is really valuable to keep in mind in terms of body image. A thumb face selfie is one where you, like, try to make yourself look like a thumb with a face. It's the thing these days for pretty girls to do, and not only are the funny faces funny enough to make you laugh tears, but it's also a reminder that "pretty" is a weird concept applied to a very narrow ideal for women. So, basically, I took thumb face selfies FOR FEMINISM. YOU ARE WELCOME. And then, just for kicks, I uploaded them to how-old.net (be aware that this gives Microsoft the right to use your photos) just to see how old I am. As it turns out, my thumbiest face is that of a 22-year-old man. Because of course.
Now, ONTO THE LINKS!
Follow SOAM:
~TIAW on Tumblr, Pinterest and Facebook.
~SOAM on Twitter and Facebook.
~Participate here on SOAM.
Interesting articles from around the Web:
~I LOVE THIS KID. I think it's so important to normalize menstruation, but there aren't too many teenage boys who agree with that. So here's this kid and he's just my absolute hero.
~Miss Piggy is going to receive a feminist award! Which. Well. I LOVE Muppets and I LOVE LOVE Miss Piggy so yay! But I have to wonder if this doesn't distract from the hard work many feminists are doing this year? (I KNOW. I feel like I have to punish myself for even saying that Miss Piggy isn't a hard-working feminist. BAD MUPPET NERD, BONNIE.) Perhaps they could have double up on the awards this year?
On a much more somber note:
~This is heartbreaking and nauseating. I just don't even have words for how devastating it is.
~And this isn't much better.
See something that belongs in the Feminist Fridays? send it to me either at my email address (theshapeofamother@gmail.com) or over on the Facebook page.