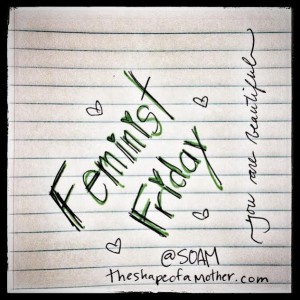 So this is a thing I used to do over at TIAW (the now-defunct This is a Woman) and then for awhile over at Zebrabelly. I'd collect a bunch of links I found important for other women to read and share them. Sometimes it was uplifting stuff, sometimes it was angry-making stuff, sometimes it was deep stuff necessary for emotional growth, and sometimes it was just pure silliness, but always it was important (silly is important, mkay?). I'm going to start trying to bring this back here at SOAM every Friday. Let's see if I can make this happen, huh? Feel free to send me any appropriate links you come across, either at my email address (theshapeofamother@gmail.com) or over on the Facebook page.
~TIAW on Tumblr, Pinterest and Facebook.
~SOAM on Twitter and Facebook.
~Participate here on SOAM.
Around the Web:
~There was this controversy (apparently) about an unretouched photo of Cindy Crawford that surfaced this week. It's kind of a non-story now, but some really important things have come from this. These two quotes perfectly sum up my own feelings about this:
"Now that I know the image was leaked, it kind of changes my response to it," said body image expert and author Leslie Goldman. "When we thought she had intentionally released that photo, it was different. We thought she was putting it out there to say 'I'm not perfect either.'"
The Marie Claire photo may have been circulated under circumstances that were dubious at best, but according to Goldman, that doesn't diminish the value of seeing a legendary supermodel with flaws. "Women everywhere are feeling empowered, relieved and grateful to her," Goldman said. "I just wish it had come about under her control."
~And in extremely similar news, Beyonce also had unretouched photos of her leaked without (I think?) her permission. You know what? Both of these ladies are beautiful, imperfections and all.
~One woman's awesome response to online misogynist threats.
~And to elaborate on that point, this is why we need feminism.
~I love all these videos showing women's fashions through the decades. This one is particularly interesting because it directly reflects the historical context of what was going on in Persia/Iran in each decade. Scroll down to read more about each decade.
~And, in case you missed it, SOAM was featured in a story a couple of weeks ago along with other body-loving sources. Go check it out!
Have a great weekend, you beautiful ladies, you!