I am a 37 year old mother I have a son whom I gave up for adoption at the age of 16 giving him a better life. Struggling with the thought of if I did the right thing all those years fighting suicide and many heartaches including cancer I managed to happily become pregnant last year and today would have been my babies due date. I was only 7w eeks along when I found out I was pregnant never missed a period, nothing I was so so excited when I finally heard the news I was having a baby the excitement was short lived I delivered a baby in my bathtub 2 weeks later with what I thought was just a kidney stone pain. It was the most excruciating heartbreaking time of my life. I had been cramping all day long but knew already I had a kidney stone something not rare for me. I was in so much pain I decided to get in the bath. Everything happened so fast I did not even have time to drive the 40 min from my small rural town to the city where the hospital was. When I entered the bath I had the most severe pain and started noticing small amount of blood my husband got me out and we went to research it on the computer, and called the dr. I could not find anything that truly explained what a miscarriage felt like what it looked like. My doctor called us back about 20 min later by this time I was already back in the bath trying to relieve the pain. I minutes later had a severe contraction which I now know was the pain and delivered my 9 week old baby.
We called our pastor and he came over and went to the hospital with us. I was bleeding so intensely and was in shock he and my husband boxed our lil baby up I was told by a cruel nurse to just flush it like it was a gold fish or something . We took it to the hospital with us and since it was considered a fetus there was nothing they could do at the hospital I was told I could take my baby and bury it at home in my flower garden or flush it or they could dispose of it. I was like really? How cruel its my baby. I chose to take it home and we buried it under a favorite tree with our pastor.
I am only writing this hoping I can be of help with someone hurting and or wanting to know what a miscarriage feels like . What a baby looks like I was told by the nurses at that size many do not even see their baby. They usually just pass it in the toilet. I however want others to know that I feel your pain and grieve with you. Your baby is your baby the minute you conceive. At 9 weeks I could make out his/her lil fingers , a lil mouth and even a nose. My body is not attractive anymore I received stretch marks when I was 16 with my son. I feel so ugly on the outside even at 37. I thought when I was in my 20s I would just get used to them and well they would fade , they have but are still there and I have a constant reminder that I gave someone a gift more precious than one could imagine.
Attached are 3 photos one of my miscarried baby last year and 2 of me 20 years after giving birth to my son stretch marks and all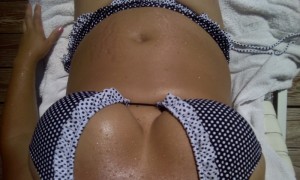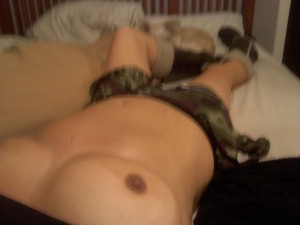 Updated here.