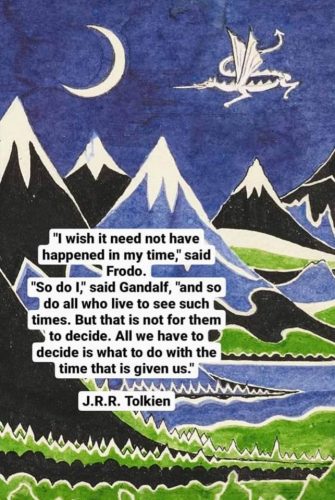 Haha, what was I thinking with restarting this right now when literally the only news is gonna be COVID-19-related? Well, perhaps I'll begin seeking out some uplifting stories, too, to get us through this tough time. Today, though, I think I'm going to share a few thoughts that have been going through my head this week, in this scary time we are living through.
I've barely gotten to function this month. After my PMDD episode ended, I only had a few days before the World Got Weird. And the rest of that time has been processing and more depression and anxiety. So I'm more behind than I would be normally. I suspect you may relate.
Last week, Angie of Mid Drift Movement and I did our first joint livestream (click the link, click the link!). This is a project we've been wanting to do for more than a year now but as the world has suddenly shifted so drastically we both find ourselves with time to focus on this and a need to support people through technology in more and more personal ways (i.e. facetiming might be the best option many of us have right now for interpersonal connection). We will absolutely be doing more of those in the future and I'm super excited for that!
One of the things that we talked about was this poem by Kitty O'Meara, who was rightfully dubbed the Poet Laureate of the Pandemic by O Magazine.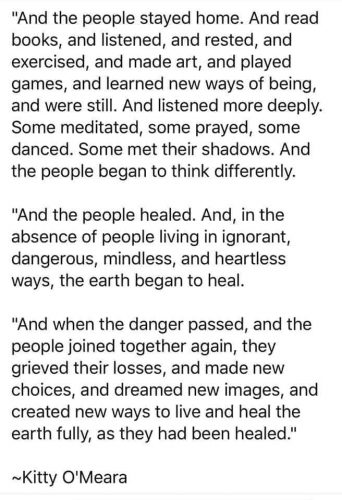 Make that your prayer right now. These last few years as I have struggled so much, and then since discovering my own neurodivergence, I have learned that rest is not just important, but it is absolutely vital. And if you are doing rest correctly, you will feel lazy and ashamed. It is important work right now to try to let these feelings go because they were taught to you by Capitalism, which is a theory that sees human beings as a means of production rather than as individual people with dreams and lives and needs. This pandemic is showing us, starkly, that Capitalism isn't working for us right now. Literally at this moment the highest leaders in our country are willing to let a wave of death wash over this nation if it means keeping the stock market healthy. I have news for you: we totally made up the concept of money; human lives are more important than an imaginary concept.
So rest. And flip Capitalism the bird. We are going to rest and heal and destroy the fucking patriarchy once and for all!