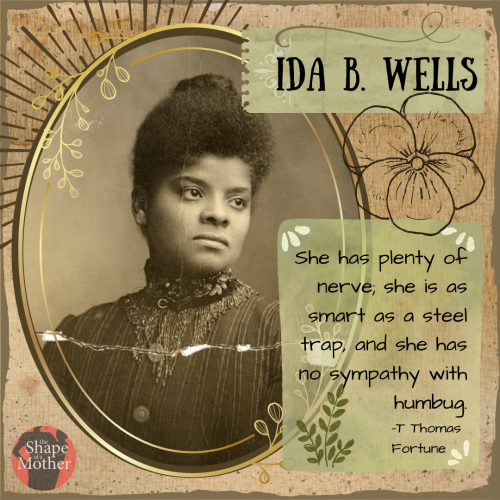 Damn, I knew this lady was a badass bitch, but when I dove into this research I was thrilled to learn exactly how few fucks she had to give. T Thomas Fortune, a Black civil rights leader, journalist, and publisher, once said of Ida that she "has plenty of nerve; she is as smart as a steel trap, and she has no sympathy with humbug." And like damn if that's not accurate. Let's dive in and see just how little sympathy with humbug this badass bitch had.
Born into slavery about six months before Lincoln signed the Emancipation Proclamation*, Ida's childhood was informed by the Reconstruction era and the work that Black folx of the South were doing at the time. Something that may be important to note here, that I certainly never learned in high school history, is that in the years directly following the end of the Civil War, there were as many as 1500 Black officeholders elected to office before white southerners began enacting voter restriction laws. Ida's father was not in government, but he did help to found Rust College, an HBCU (Historically Black Colleges and Universities), which Ida attended. So she comes from a family of Badasses.
Unfortunately when she was a teenager, she lost both of her parents and one of her siblings during a yellow fever epidemic. Out of this tragedy, she arose, pulled up her badass britches, and stepped into the path of no humbug that she followed her whole life.
Although she was only sixteen at the time, she convinced a local school administrator that she was eighteen and qualified to be a teacher (1). In this manner she was able to continue to support her five younger surviving siblings.
A few years later, a rather inciting incident took place. She bought a first class train ticket and hopped on board with all the other first class passengers. Once the train was underway, she was asked to move to a car designated for Black riders. Like Rosa Parks would nearly a century later, Ida refused. She'd paid for first class, for fucks sake. Having no respect for human beings, the crew tried to physically remove her at which point she, in her own words, "fastened [her] teeth in the back of his hand (2)." Fuck yeah you did, Ms. Wells! While that particular dudebro would not go near her again, other crew members dragged her out anyway. Ida wrote, "They were encouraged to do this by the attitude of the white ladies and gentlemen in the car; some of them even stood on the seats so that they could get a good view and continued applauding the conductor for his brave stand (2)." She sued the railroad and won. For a time, anyway. The decision was eventually reversed by the Tennessee Supreme Court (1).
So, like so many badass bitches, she began writing. She had articles published in various newspapers and even went on to own two papers herself (1). However, because she preferred to remain not murdered, she used the pseudonym "Iola" (3). She continued teaching even while she was writing and often wrote about the inferior conditions of Black schools, demanding equality.
When three of her friends were lynched, she responded in the only way she knew how: she spent two months travelling through the south, collecting information on lynchings and writing about them, and eventually publishing a pamphlet and taking her anti-lynching campaign across the Atlantic to Europe and Great Britain (3). She was not fucking around. No sympathy with humbug.
It feels like such a silly detail to follow that epic part of her story with, but in reality I think it's remarkable to remember that when Ida got married in 1895, she was one of the first American women to keep her maiden name (1). Fuck yeah. No sympathy with humbug patriarchy, y'all. Never forget where we come from, fellow women. It may be commonplace today to keep our names, but it was revolutionary at one time and Ida got in on the ground floor.
But she wasn't just an investigative journalist, writer, publisher, orator, educator, wife, and mother. She was also a suffragist.
(Fun fact because I like fun facts: "suffragette" is a term that actually only applied to one small group of suffragists in Great Britain who were kinda known for their mild violence. Throwing bricks through windows and whatnot. Everyone else was a "suffragist.")
When I am educating people on feminism and feminist ideals, I often remind them that feminism has historically been exclusionary. The suffragists excluded Black women, the women's libbers excluded lesbians, and today some so-called feminists attempt to exclude transwomen. I use this fact as proof that it's time to learn from our history and do better. Ironically, it's always been an attempt to appeal to the perceived majority that prompts the exclusion. An attempt to "find the middle ground" (lol sorry but it's not the middle ground if all of the people aren't welcomed into the space).
Ida faced this directly. Having no sympathy for humbug, she did what Ida always did: what she fucking set her mind to.
In March of 1913, Alice Paul and other suffragists had planned a march on Washington. Ida traveled to Washington DC with the Alpha Suffrage Club, an organization she helped to found in Chicago, with the intent to March. Although Alice was sympathetic to Ida, in the end it was decided that Black suffragists would have to march at the end of the parade instead of with their respective organizations. Ida was like fuck no everyone knows I've got no sympathy for humbug and she waited in the crowds along the street until her group marched by, at which point she just fucking joined them (4).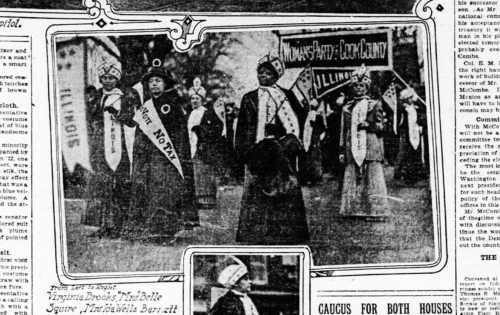 God I love this woman.
There is so much more she was involved with that this mini-bio doesn't have time to go into. She's considered a founding member of the NAACP, for instance (1). I highly recommend you go forth and google some shit. If each of us can find just a fraction of the amount of No Sympathy For Humbug that Ida did, we could change the world for the better real fucking fast. Keep that in mind, friends.
*Remember, slavery did not end until… well, technically ever if you read the thirteenth amendment, which specifically allows for slavery as "punishment for crime," but the amendment's act of ending chattel slavery was not proclaimed until December 18, 1865.
Works Cited
1. "Ida B. Wells (U.S. National Park Service)." National Parks Service, U.S. Department of the Interior, 30 Dec. 2020, https://www.nps.gov/people/idabwells.htm.
2. Leider, Polly. "Excerpt from 'Lighting the Way.'" CBS News, CBS Interactive, 16 July 2007, https://www.cbsnews.com/news/excerpt-from-lighting-the-way/.
3. Smith, Clint, host. Ida B. Wells: Crash Course Black American History #20. Crash Course, YouTube.com, 8 Oct. 2021, https://www.youtube.com/watch?v=ocbAfpjibr4. Accessed 15 Feb. 2022.
4. "Standing up for Her Principles: Ida B. Wells and the Suffrage Movement: Ida B. Wells: Chicago Stories." WTTW Chicago, WTTW Chicago, 21 May 2021, https://interactive.wttw.com/chicago-stories/ida-b-wells/standing-up-for-her-principles-ida-b-wells-and-the-suffrage-movement.