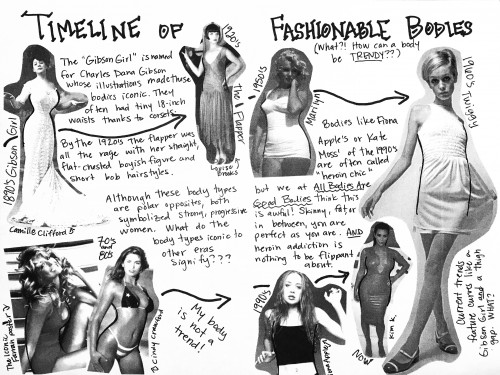 Do you remember about a year ago when this manifesto I wrote was published on GrokNation? It's a culmination of the lessons I've learned here with you all over the years. It's about how your skin is your Story, your memoir, the record of your life written on you. We want to be mark-free/society tells us we must want to be mark-free, and we must be mark-free. But it is as we move through our life that our story is written and we learn lessons and gain wisdom along the way. The old crone, the wise woman, she is covered in lines and marks and they symbolize her status as leader and grandmother. For us to want to avoid marks is for us to avoid becoming her; it is for us to remain naive and inexperienced. And that, of course, allows us to remain easy victims. No one fucks with the wise woman.
This is what I hope for us, that we come to see the beauty in our lines and our marks. They aren't a blemish, they are a memory, a plot line, a story. To see the beauty here is a revolutionary act, throwing off the chains of the beauty industry that keeps us insecure enough to line their pockets.
But more than that, I hope that we can find ourselves to be worthy just as we are. You are worthy even if you have five more pounds to lose. You are worthy if you have 300 more pounds to lose. You are worthy if you have no plans or desire to lose weight at all.
You. Are. Worthy. Just. As You. Are.
We are working on publishing a zine focused on body image. We hope to have the first issue ready by the end of the summer. We will be looking up local (San Diego) places to place them, and we will be mailing them out to anyone who chooses to subscribe. The first issue will be free, after that we may change a small fee, or donation, to cover costs. We are so excited! If you are interested in subscribing, or if you know of a place local to you who would be willing to have our zine available/for sale, email me at theshapeofamother@gmail.com. Just put "ZINE" in the subject. And then also be patient with me because I am terrible at life and sometimes I don't check my email regularly.
I hope that our zine, like this website, helps spread the body-positive to new people and helps more people learn to love themselves.
And if you'd like to join us here in our online space, consider sending in your own story.