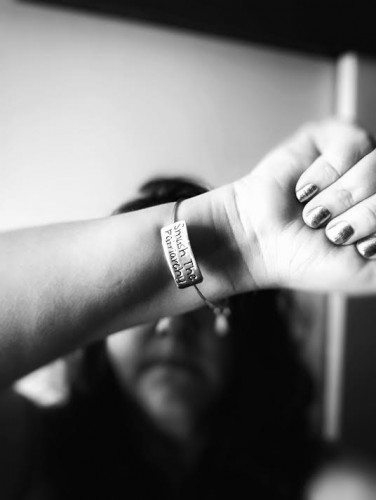 So I turned 39 this week. I don't think 39 is old at all, and I have no problem with growing older anyway, but boy does it feel weird. Maybe it's weirder because I am currently an undergrad going to school with kids born the year I graduated high school. Most of the time it doesn't make a difference and I feel like they are my peers as we dissect literature or discuss feminist theory. But then they'll make a comment ("Have you ever heard of Mr. Coffee?") that brings me back to the reality that I could be their mother. I enjoy regaling them with stories of what the world was like in my day: having to write essays on word processors and without Google or Wikipedia. These days I do all my research from my bed or couch, but in the 90's I remember driving to local universities to use their libraries when our civic ones weren't enough.
So I've spent ten years here discussing body image and fighting the demands society puts on us to stay young. I've been fighting it in my own head much longer – maybe 35 years. Believe me, you could not pay me to be young again. It was exhausting not knowing as much as I do now about life. But I have to admit that I struggle with my body image. Even after all this time. Even after all this work. Sometimes it makes me feel like a big fake since I have this whole website here trying to help women love themselves just as they are. But I guess it's normal – it takes a lifetime to undo all the societal conditioning bred into us by the time we enter grade school. Sometimes I am better at loving me exactly as I am and sometimes I struggle more with it.
SOAM has slowed down a TON in the last two years. This is a post I sort of expected to write in the early days: where I begin to consider the future of the website. In those early days, I never expected it to last as long as it has. I was lulled into a sense of permanence and so I've struggled these last couple of years with the slowness of the website. In some ways, I worry that I've failed it (and therefore you, my readers). The fact is that I may be a good writer, but I am a terrible blogger. I do not like having to market myself and I am not good enough at social media and then I let my anxieties get in the way: when I haven't done enough work, I tend to hide my head in the sand and pretend nothing exists. SOAM could be more than what it is and the fact that it isn't is my fault.
At the same time, though, I also realize that I have too much on my plate. I am a single mom of two kids, I am low-income, I am a full-time student, I struggle with depression and anxiety, and I am recovering from an abusive childhood and trying to learn how to be a good human. Poor SOAM, then, simply isn't always a priority. I am sure many of you relate.
But I think the other aspect of the slowness of the site is actually really good and really exciting: these days there are so many more resources for seeing normal bodies. 10 1/2 years ago, there was almost nothing. Now there's a ton! (You can find these other sites in the Body Positive Links above.) It's not so revolutionary anymore and that is GOOD. It is so, so good. Ultimately the goal for SOAM is that we all want into become pointless, right?
I don't think we're quite there yet.
And it's going to be a wild ride as women's issues come to a bigger battle in the courts. I don't like to alienate readers with politics, but I think it would be irresponsible to SOAM's daughters and granddaughters to not take a stand for women.
So here's the future for SOAM: I don't really know. As long as people keep sending me posts, I'll keep sharing them. If people stop, I'll keep the ones we already have up for as long as I can. I'll be writing here from time to time when I can to share news, keep readership up, etc. I'll probably take some political stands. I want to reach out to other people who SOAM might inadvertently alienate – mamas who adopt, or trans mamas or papas who struggle with post-baby bodies or the lack thereof. I'm hoping to have some local (San Diego) gatherings – already working on one for near Mother's Day. But while I finish school, the fact is that SOAM is not going to be my top priority. Once I've graduated I hope to put a ton more energy into it and make it something bigger than it ever was with books and conferences and classes. I think it would be awesome to turn it into a multi-dimensional community working towards body positivity in new ways. SOAM will probably never be exactly what it was before, but I was stupid for hoping it would never change because change is, after all, the only constant.
T-minus one year until I'm 40. I feel very old to just now be graduating and beginning a career, but life looks different for everyone and I plan to make the most of everything I have from my past to my future.
So much love to you, my readers, and here's to another great year doing good work in the world together!